There is nothing that beats having comfortable, stylish, versatile, and breathable workout clothes when you go to the gym. I am sure we all have experiences where we went to the gym in clothes that just were not suited to be worked out in. In some extreme cases, not having fitted and breathable workout clothes can severely stunt your ability to work out effectively.
Now, although we can all agree that having great and comfortable workout clothes is a must-have, we all don't have the money to spend on some of the top brands like Gym Shark or even Nike and Adidas. Luckily, with some research and diligent searching, I was able to gather and find some of the most comfortable, versatile, and stylish workout clothes for men that are cost-effective.
Best Budget Workout Clothes For Men
Here is a list of the Best Budget Workout Clothes For Men!
Best Budget Men's Shirts and Hoodies
Here is our first tier of the list, focusing on short sleeves, long sleeves, and hoodies. These are great options and sport some great brands, I can't imagine finding better options than the ones featured here.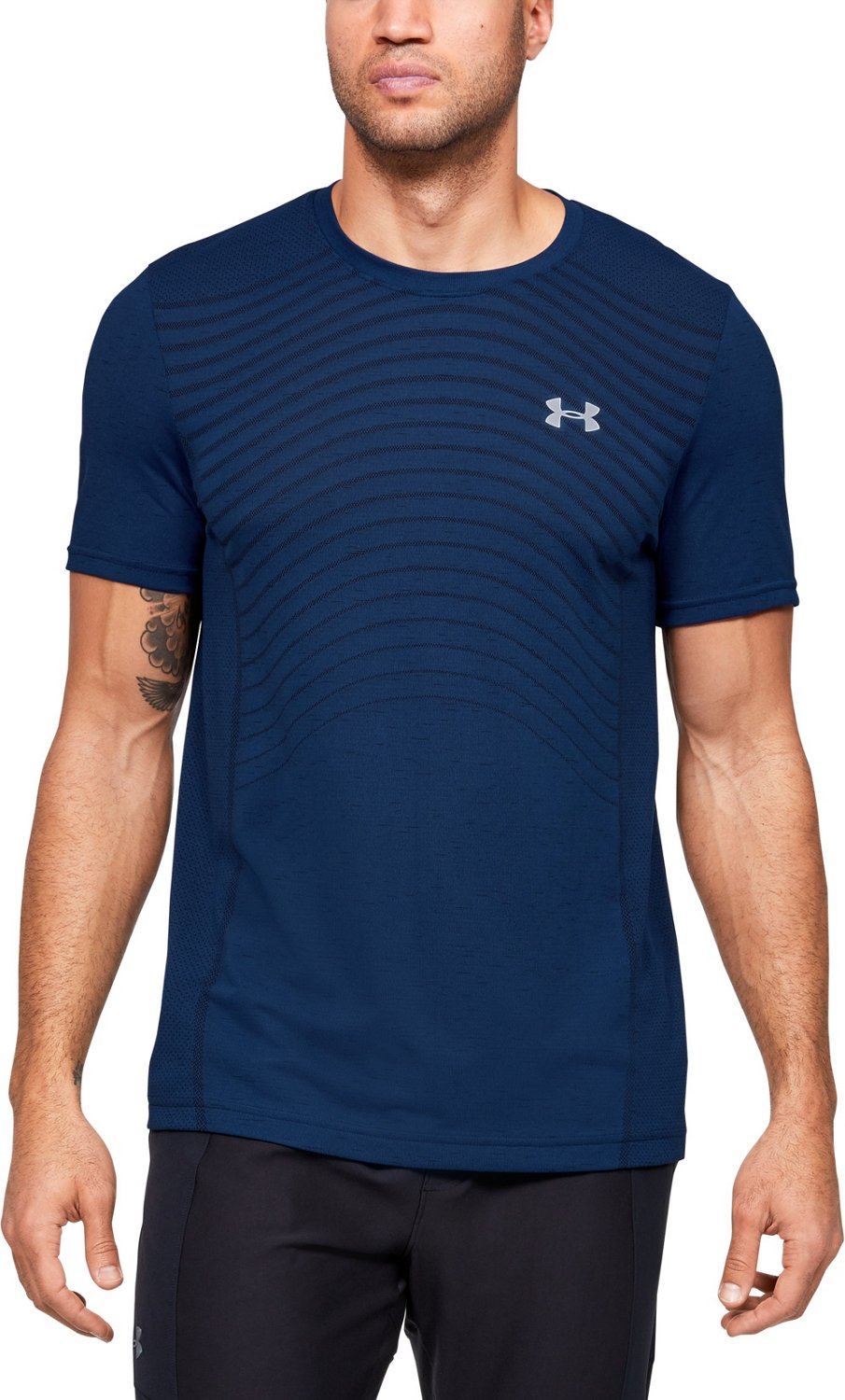 Under Armour will be a recurring product brand on this list due to its incredible ability to ride the line of being budget-friendly and high quality.
The Tech 2.0 shirt is a dry-fit men's shirt that has sizes all the way from small to 5x Large. It also features blue, red, pink, grey, black, and so many more. The number of color options here is really impressive.
Don't just take my word for how good these shirts are, Amazon currently names this as a #1 bestseller and it currently holds a 4.5-star rating.
These shirts are a great buy and depending on the size and color, can be a great value!
If you are looking to get one of the best value for your dollar on this list, this 5-pack pair of men's dry-fit shirts is an excellent option.
Not only is this a 5-pack color variety, but they have 14 different color combinations, as well as all black and all white.
This is currently Amazon's Choice and holds incredibly good reviews.
These shirts are a bit think, but considering you are wanting something light and breathable, these shirts are a great option.
Yet again Under Armour features an incredibly comfortable and quality T-shirt. Although similar to the other option on this list, this under-armor shirt allows for a different look and slightly longer sleeves.
Coming with over 20 different colors and sizes from small to 5X large, it also sports 60% Cotton and 40% Polyester mix.
The overall look and brand placement are aesthetically pleasing to the eyes and because of the split material list, this offers a semi-dry fit shirt while keeping a soft cotton aspect.
If you like the more aggressive look of a short sleeve hoodie then this is definitely something you'll want to look at.
Coming with a 3-pack color assortment and with 8 separate color variety types, this 3-pack really does pack a punch in terms of value for dollar cost.
Being 85% Polyester and 15% Spandex, these are comfortable and soft yet stretchy and athletic.
There really isn't much that can beat this pack if you like the look.
Neleus makes another great product here with a thin and slim men's long sleeve hoodie, coming in a 3-pack color assortment, this is a great deal!
Coming with over 30 different color assortments and combinations, these are a 93% Polyester and 7% Spandex mix. They definitely are softer than most workout clothes but do feature a bit of flex.
The slim look and fit are great for those of you that absolutely despise the oversized hoodie look and want a more sleek and aggressive style.
Best Budget Men's Workout Shorts
You have come to the right place to find some great workout shorts that are cost-effective. A lot of these options even sport some big brands that surprisingly are not going to break the bank.
Yet again, Under Armour delivers an incredible product here with some extremely comfortable and soft workout shorts for men.
Considering the price and the balanced 84% Polyester and 16% Elastane mix, these really are a great option.
These also come in multiple sizes and over 10 different colors and designs. For some, the logo may be a bit too large for their liking, but the overall look and fit of the shorts are nice and slim.
The main feature that makes the PinkBomb men's running shorts such a good pair of workout shorts is the phone holder. Not only are these good for running, but also any other exercise and gym activity.
They come in over 10 different colors and designs as well as many different sizes.
These have a mesh feel with a strong elastic closure to make sure your phone is held in tight. They are really considered to be above the knee shorts so plan accordingly with your sizing choices.
Considering Champion is a decently priced brand, seeing these mesh shorts that have a great look and fit are under $50 is a huge surprise and a great deal.
Coming in over 10 colors and multiple different sizes, depending on your selection, you can get a great deal here. Also, small detail but you also will be sporting that C logo on the shorts, which is always a plus.
These can extend out of just gym wear. These would be great for sports use as well, especially basketball. The mesh allows for absolute breathability.
While definitely having a more bodybuilder geared to look and fit, these shorts really are a great choice for anyone. I personally love these types of shorts. They really do flatter with a great fit.
They come in over 10 color combinations and multiple sizes.
Being 90% Nylon and 10%, these are definitely more on the stiffer side, but can easily be worn when in the gym.
Having probably one of the most casual gym combo versatility in this list, these shorts are extremely stylish while being very practicable for gym use.
They are 68% Polyester, 29% Rayon, and 3% Spandex.
They are higher-fit shorts so expect to be showing some knee action. They also come in some really great colors, Dark blue, white, maroon, Cheeta (if that's your thing), and a lot of other options.
They also feature some zipper pockets so you can throw your phone in there for a run and not have to worry about it.
Best Budget Men's Workout Joggers
Here is a selection of some of the best value men's workout joggers. these are not only stylish, but some feature some great features like zippers, large pockets, and comfortable fits.
If you are looking for some really stylish and slim-fit jogger pants for the gym, these are an excellent choice.
Coming with 10 color options and different sizes, these sport a really nice and casual look.
They also have a zipper for the lower section of the leg sleeves, this allows for a customizable fit.
Although these are a more casual look and feel, the champion Powerblend jogger pants are great for gym use as well.
These are 50% cotton and 50% polyester, which makes them really comfortable and soft to the touch. They come in multiple different colors, although not all that many, there are options here.
I can see these being great for those who want joggers that they can use for the gym but also for going out and or even chilling at home. It could also be for those who don't like the feeling of dry-fit clothes.
Probably the slickest and coolest looking pair of joggers on this list, Buxkr has a great pair of joggers with deep and large pockets.
These are extremely stylish and come in 5 different colors. Depending on your selection, you could get a great deal here.
They have a 65% cotton and 35% elastic fiber split, so you can expect them to be soft but stretchy enough to work out in.
Best Budget Men's Compression Outfits
If you need a full-body compression pack that is of the greatest value, you came to the right place. Below are a few options for the best budget men's workout compression outfits.
If you are running in cold weather or you just need a full-body compression fit, this is one of the best values for your money.
Coming with slim-fit shorts, compression leggings, compression shirt, compression short sleeve shirt, and a slim fit dry-fit hoodie, this is an incredible package.
Being 92% Polyester and 8% Spandex, they may feel a little stiffer or rather form-fitting than stretchy, but they have just enough stretch to make them a great purchase.
Having a more casual fit than the option before, BoomCool's full workout compression pack comes with a more breathable and casual look.
Coming with shorts, compression short and long sleeve shirts, compression leggings, and a hoodie, this is again, an incredible value.
Holding an Amazon's Choice and great reviews across the board, this is a great purchase. I would also recommend looking at their other style selections.